SVS & SAGA
Stationery Products
SVS is a reputable and certified stationery manufacturer, supplier, and exporter based in Mumbai, India. We have been serving our clients for several years by designing a quality range based on their needs and preferences. We specialize in creating a wide range of stationery products for schools and offices, including Display Books, Document Folders, Clip Rings, Streep Files, Ring Binders, Visiting Card Albums, Polypropylene Products, Softy Clips, and more. Our expert team creates the entire range while under the strict supervision of our mentors.
We not only supply the product in India, but we also export our manufactured range of files, folders, and other stationery products all over the world. We have a sophisticated infrastructure that is well-equipped with all the necessary machines and tools to design a quality range of products in accordance with industry standards.
Stationery & Supplies
Display Book, Clip Ring, Ring Binder, Streep File, Polypropylene Products, Visiting Card Album, Softy Clip, Computer Binder, PP lever Arch File, Super Strong file, PVC Products, Customized Files as per Customer need.
Why Choose Us?
Reliability and creditability are not enough to describe a market leader like SVS. We are a renowned company acknowledged for designing, supplying, and exporting Polypropylene Products, Document Folder, Clip Ring, Ring Binder, Display books, Streep files, Softy clips, Visiting Card Album, Computer Binder, and many more stationery products for the customers. The huge client base and growing demand for our designed products make us a trustworthy name in the industry.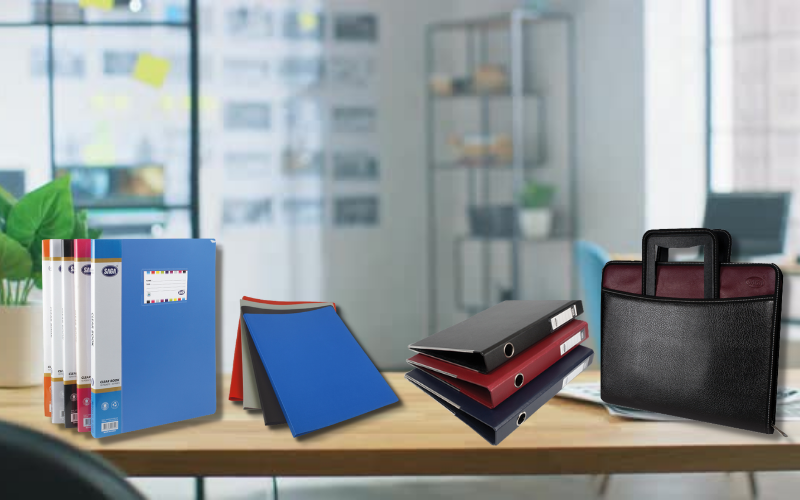 Best Stationery Manufacturer In India SVS Stationery is a reputable and certified stationery manufacturer, supplier, and exporter based in Mumbai, India. We have been serving our clients for several years by designing a quality range based on their needs and preferences. We specialize in creating a wide range of stationery products for schools and offices, …
Best Office Stationery Manufacturer in Mumbai, India Read More »
Avail These Long-Lasting Stationery Products For Official Usage You're ready for a meeting, but something is missing that gives you a professional look? Maybe you forgot to take a conference folder or an executive bag with you. An executive bag gives you an extremely smart and polished look. But, remember, always use products from reputed …
Avail These Long-Lasting Stationery Products For Official Usage Read More »