Best Office Stationery Manufacturer in Mumbai, India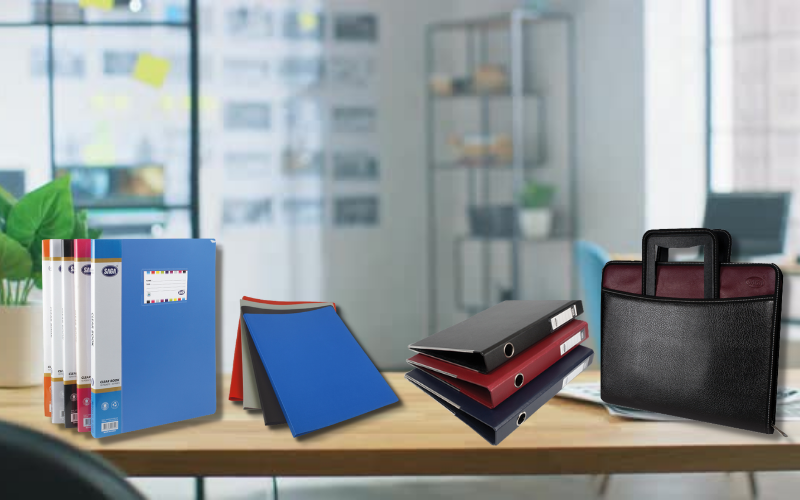 Best Stationery Manufacturer In India
SVS Stationery is a reputable and certified stationery manufacturer, supplier, and exporter based in Mumbai, India. We have been serving our clients for several years by designing a quality range based on their needs and preferences. We specialize in creating a wide range of stationery products for schools and offices, including Display Books, Document Folders, Clip Rings, Streep Files, Ring Binders, Visiting Card Albums, Polypropylene Products, Softy Clips, and more. Our expert team creates the entire range while under the strict supervision of our mentors.
Gain The Ultimate Experience Of Online Stationery Shopping
Finally, offices are opened after a long time. Employees are ready to pack their bags with all the essential items and get back to work. So, when you are packing your bag, make sure it contains all the necessary stationery items, ranging from Streep files to visiting card albums.
Shop Online From A Stationery Manufacturer
In the today's modern world, everything is easily available on online platforms. So, if you are searching for a line of stationery products for your official usage, opt for the products manufactured by one of the topmost leading industries. Availing products from reputed Office Stationery Manufacturers & Suppliers in India is advantageous as they use premium-grade raw materials for manufacturing the range. Furthermore, all their manufactured products are checked for quality by professional experts on various parameters and then only added to the inventory collection.
Featuring Points Of Office Stationery Items:
When you talk about stationery products, it is essential to look at their features. The branded office supplies are acclaimed for possessing amazing features like:
Prior Reasons To Choose SVS
Seeking the right stationery product to meet your requirements? Do some research and find out which company manufactures and supplies the best range of products. After taking out the list of leading companies, if you still find it difficult to pick a company with a trustworthy brand, you can consider SVS. The company is a well-known for Office Stationery Manufacturer & Supplier in India.
The company, apart from supplying SVS products, also exports the stationery items of a well-known Product range, SAGA.